MAKING THE MOST OF YOUR WALK IN WARDROBE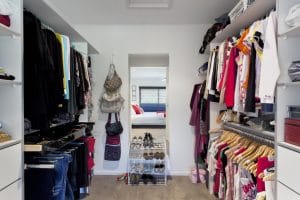 Are you lucky enough to have a walk in wardrobe?  If so, are you making the most of the space in there?  It may be small, but there are ways you can create more storage space. Here are a few of my suggestions:
 ADJUST SHELVING HEIGHTS
Custom-built shelving is ideal, however, if the budget doesn't stretch that far then opt for shelves that are adjustable. These can be easily added and provide you with a lot more flexibility and storage options.
 ADD HOOKS
Hooks can be added inside cupboard doors and can store so many items such as bags, ties, belts and scarves. Add as many as you want and even use them for displaying jewellery.
 USE DRAW DIVIDERS
Draw dividers can make it heaps easier to find what you are looking for and are also great for creating compartments to keep jewellery or stockings in.
 USE MOVEABLE HANGING RODS
Similar to the adjustable shelves, adjustable rods are ideal.  You can double the wardrobe space by hanging 2 rows of blouses, one above each other.
 USE ALL THE SPACE TO THE CEILING
Use the whole height of your walk in wardrobe.  Keep a footstool tucked away to use to reach the higher items.