Hide-away with a Butlers Pantry
Hide-away with a Butler's Pantry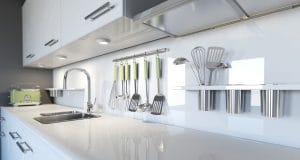 Kitchen Storage
Entertaining is fun cleaning up not so much. How do you to keep your kitchen uncluttered and looking a million dollars when you are entertaining guests and visitors? A butler's pantry could be the solution you are looking for. What is a butler's pantry?  Everything Cabinets can help you make the decision and design the perfect scenario for your new kitchen.
What is a Butler's Pantry?
You might call it a kitchenette or small kitchen within your kitchen. The primary function of the butler's pantry is a space for all your food preparation and clean up after meals without while leaving you kitchen spick and span for people see. If you are the consummate entertainer or simply like to having your home looking clean and immaculate at all times.  The butler's pantry is a hide-away attached to your main kitchen.
How can you make work in your existing kitchen?
With the right advice from Everything Cabinets it may be easier than you think to add this great feature to your home. The secret is to ensure that it not in plain view and it works much like a traditional pantry only a little bigger. It just takes a bit of out of the box thinking, using sliding or bi-fold doors for example.  Benchtops are a key element to enable all your preparation and serving to be done from your new butler's kitchen. This little hide-away does not always need the same quality of bench top as you show kitchen. You can match it with a cheaper option e.g. laminate or less expensive stone that are just as serviceable.
Appliance storage is a must and space for your crockery. No need for expensive cupboards open shelving is a better option keeping all your cooking needs easily accessible.  Although your butler's pantry is hidden away generally with no windows, good lighting is a must. Your preparation area also need a sink to ensure you can make the most of the space. Also, if you have the space a dishwasher can be a real asset.
Why Install a Butler's Pantry?
Firstly, if you need extra room in your kitchen for cooking, storage and cleaning up, this is the answer to your prayers. Secondly, it is ideal for keeping the mess you create out of sight while cooking and entertaining for family and friends. All the mess can stay well-hidden and you can clean it up in your own time. This will leave you time to join in the party rather than hurriedly tidying the kitchen.